'Race to Survive Alaska' : USA's High-Stakes Outdoor Competition Series Comes with a $500K Prize
Article written by Dave Quinn for people.com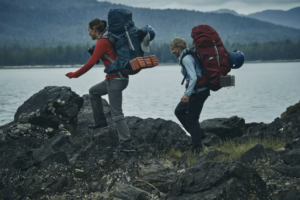 Race to Survive Alaska is turning the pressure up on the outdoor reality competition series.
The new USA Network series, which premieres Monday, challenges eight teams of two to six intense races over the course of 40 days through the harshest of Alaskan landscapes — all for the chance to win $500,000.
But getting to the finish line won't be easy. Unlike other race shows, there are no cushy hotel rooms or even planes, trains and automobiles to help them get around. Instead, these survival experts must endure more than 100 miles of inhospitable, previously unexplored terrain on the strength of their own two feet with nothing but what they can carry.
Plopped in the middle of the Aleutian Alaskan islands, they'll have to utilize their primitive survival skills to source their own food, water and shelter. It won't be easy as they'll have to battle every element of the dangerous Alaskan coastline, marked by its sprawling mountain ranges, ancient glaciers, suffocating rainforests and threatening wildlife.
"I was hoping there would be an easy way, but it's Alaska — there's no easy way," one says in the premiere.
It's one thing surviving the elements; it's a whole other surviving each other.
This being a competition, the endurance racers will also have to push through their hunger pangs, injuries and mental anguish to beat one another to the end. As for the last team to make it to the finish line at the end of each episode, they'll be eliminated.
Will the teams form alliances to help each other get there? Or stab one another in the back to make it to the end? There are plenty of possibilities, especially considering the dynamic within the racers, who are comprised of teams from diverse backgrounds and relationships.
They include father-son duo Jeff Leininger, 53, and Hunter Leininger, 21; friends and adventurers Robin Moore, 45, and Elizabeth Killham, 36 — an ER nurse and veterinarian who met on skydiving trip; as well as Alaskan hunters Brett Gatten, 46, and Esther Sanderlin, 40, who have been dating for two years.
Two sets of siblings are on the show: Alaskan brothers Wilson Hoogendorn, 23, and Oliver Hoogendorn, 25; and siblings and adventuring enthusiasts 20something Bella Crane and Cason Crane, 29, who made history by being the first person to plant the LGBTQ+ Pride Flag on all seven summits.
There's also ice climber and mountain guide Max Djenohan, 33, who made a name for himself on Naked and Afraid, when he spent 156 days on four different continents. "Pretty much everything I do helps me get outdoors," Deinohan says in the premiere.
He's racing with friend and experienced survivalist Christian Junkar, 25. Two other teams of friends — professional rock climbers Genevive Walker, 33, and Favia Dubyk, 34; and martial arts enthusiasts Hakim Isler, 45, and Justice Norman, 38 — round out the group.