Best Comedy of 2022
Stand-up specials like "Rothaniel" pushed boundaries this year, and Netflix's financial setbacks could mean that its dominance in comedy is slowing.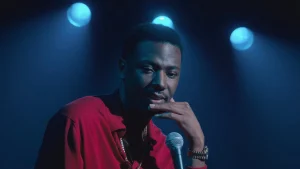 This year was a "best of times, worst of times" situation in comedy. When it comes to recovering from the pandemic, live stand-up fared better than Broadway. Touring shows did good business. But anxiety in the comedy world grew as Netflix hit some serious financial setbacks. Gatekeepers, like network executives and late-night bookers, continued to have less sway, but were social media algorithms any better? In this transitional year, here are some highlights.
Best Special
It's not often that "beautiful" is the first word that comes to mind about a stand-up special. For some, that might even sound like a backhanded compliment. When did beauty ever make you laugh? But Jerrod Carmichael's "Rothaniel," a radically intimate, cinematically shot production, is a departure for him and stand-up more broadly. Its melancholy tone and patient pace set up new kinds of clever jokes. And its exquisite aesthetic features stunning and unexpected shots staged by the director, Bo Burnham, that emphasize the theme of mystery and secrets. Carmichael's language manages to be unorthodox and elegant, and the way he interacts with the audience displays a vulnerability that is as moving as it is funny. (Streaming on HBO Max.)
Best Debut
The first special from Atsuko Okatsuka, "The Intruder," has a title that sounds like a horror movie, which is apt. A charming narrator of her own anxiety, her jokes find unique angles into an ancient feeling: Fear. Premiering on HBO Max on Dec. 10, the special's backbone is her cowering response to a stranger approaching her house, but unexpected visitors aren't the only thing she's afraid of. Teenagers petrify her. Their coolness unsettles. Then there's a disastrous interaction with a stranger's dog who licks her, and when she pushes forward, she accidentally licks the animal's tongue. "Don't worry," she assures the pet's owner nervously, "I'm married."
[…]
Best Documentary
In "Phat Tuesdays," a three-part series on Amazon Prime Video, the director Reginald Hudlin doesn't just effectively and entertainingly argue for the seismic importance of the little-known Black comedy night at the Comedy Store. He also makes the 1990s Los Angeles comedy scene look like a way better time than anyone is having now. (Streaming on Amazon Prime Video.)
[…]
Best Comedy With Music
In this booming alt-comedy genre, Matt Rogers's new Showtime special, "Have You Heard of Christmas?" — which straddles lines between holiday album spoof and dead serious homage, ironic schmaltz and genuine emotion — stands out for its commitment to sultry-to-the-point-of-silly songs. In this regard, it's more in the spirit of Sandra Bernhard's annual New Year's Eve show than Bo Burnham. (Streaming on Showtime.)
Most Popular New Trend in Specials
This was the year when otherwise polished stand-up specials regularly incorporated conversations with audience members. Patton Oswalt riffed with ticket buyers for several minutes in "We All Scream." Joel Kim Booster built interactions with one person into the connective tissue of his show, "Psychosexual." Hasan Minhaj ("The King's Jester") and Andrew Schulz ("Infamous") did plenty of crowd work. Matteo Lane did an entire show of it ("The Advice Special"). Perhaps the absence of audiences during the pandemic made comics a little more eager to bring people into the performance.
Best Sign That Netflix's Dominance Is Over
The year began with Netflix's stock price plummeting, the company cutting staff and then, most notably, trying out a leasing model. In that approach, stand-up comics (like Chris Distefano and Whitney Cummings) pay their own production and marketing costs, receive a smaller fee and get the rights to their material back after a window on the site. The platform famous for giving out tens of millions of dollars to comics has entered the austerity era.
Best Sign That Netflix Still Dominates
No other streamer has come close to competing with it. FX and Peacock dabbled. Amazon did more than that. And HBO Max had a few hits. But we're still waiting for a rival to fully engage in stand-up comedy.
Best YouTube Special
You can make an argument that the best producer of specials right now is YouTube, especially when you factor in price for the viewer. Among the comics who released funny specials for free were Fahim Anwar, Ari Shaffir, Liz Miele and Ali Siddiq. But the one that made me laugh loudest was "Jokes From the Underground" by Raanan Hershberg, whose punchy and deliriously funny club comedy made me laugh after second and third viewings.
Article written by Jason Zinoman for nytimes.com