News & Documentary Emmy Noms Revealed: 'Vice News Tonight' Dominates As CNN Leads Networks
Article written for deadline.com by Erik Pederson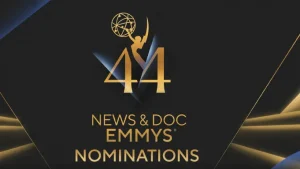 The nominations are out for the 44th annual News & Documentary Emmy Awards, and CNN leads the way with a commanding 45 noms ahead of Vice (30) and ABC and PBS (26 each). See the list of nominees in all 62 categories below or click here.
Vice's Vice News Tonight — which wrapped its eight-season run in May — scored a dominant 28 noms, more than doubling its closest program rival, CBS stalwart 60 Minutes, which landed 11. ABC's Nightline, PBS' Frontline and National Geographic's Trafficked with Mariana van Zeller are next with nine apiece, followed by CNN's Anderson Cooper 360 and PBS' POV with seven apiece.
As for the marquee categories, vying for Outstanding Live News Program are ABC World News Tonight with David  Muir (ABC), Anderson Cooper 360 (CNN), CBS Evening News with Norah O'Donnell (CBS), CBS Mornings (CBS) and Nightly News with Lester Holt (NBC). Up for Best Documentary are Roadrunner: A Film About Anthony Bourdain (CNN), Escape from Kabul (HBO Max), Frontline – Putin's Attack on Ukraine: Documenting War Crimes (PBS), Good Night Oppy (Prime Video) and The Janes (HBO Max).
The hardware will be handed out during separate ceremonies for the News categories on September 28 and Documentary on September 29. Both will be held at the Palladium Times Square in Manhattan and livestreamed at watch.theemmys.tv and via the Emmys apps. The awards cover programs that premiered during calendar-year 2022.
"The News & Documentary Emmy Awards honor the work of dedicated professionals working at the highest level of the broadcast journalism and documentary filmmaking professions," said Adam Sharp, President and CEO of the National Academy of Television Arts & Sciences. "They pay tribute to the journalists who bring us up-to-the-minute reporting on the critical stories of our time and the documentary storytellers who explore important social, cultural, and political issues in great depth."
Outstanding Politics and Government Documentary
A Radical Life     discovery+
In Her Hands     Netflix
Independent Lens           PBS
Apart
POV       PBS
Not Going Quietly
Watergate: High Crimes In The White House       CBS